Here's the trailer for the 1973 film BECAUSE OF THE CATS, by the Oscar-winning Dutch filmmaker Fons Rademakers. It's based on Nicholas Frehling's 1963 novel about a vicious gang of "untouchable" rich kids. Orson Welles tried unsuccessfully to make a film of this same novel five years earlier:
http://www.youtube.com/watch?v=Ud75G0-8j8U
"Because of the Cats" is long-forgotten now, but it's a pretty well-made film; dark and brutal in spots, but still of interest because of Welles's interest in the story. The similarity to A CLOCKWORK ORANGE is perhaps one of the main reasons why the film was made: to try and capitalize on the success of Kubrick's film. Sylvia Kristel, the soft-core porn star who passed away recently, makes a brief appearance in the film, and Canadian actress Alexandra Stewart plays Feodora, a local prostitute involved with one of the gang leaders. This part would have been played by Oja Kodar in Welles' film. It's not known what part Welles himself would have played, if he had intended to appear in the film at all.
At the University of Michigan's Welles/Oja Kodar archive, there are four folders devoted to Because of the Cats, including several script drafts and production materials from 1969. It would be interesting to know what attracted Welles to this story, although the idea of teenage thugs who violate women is something that was seen in TOUCH OF EVIL as well. And in a strange way, the story also has echoes of FALSTAFF.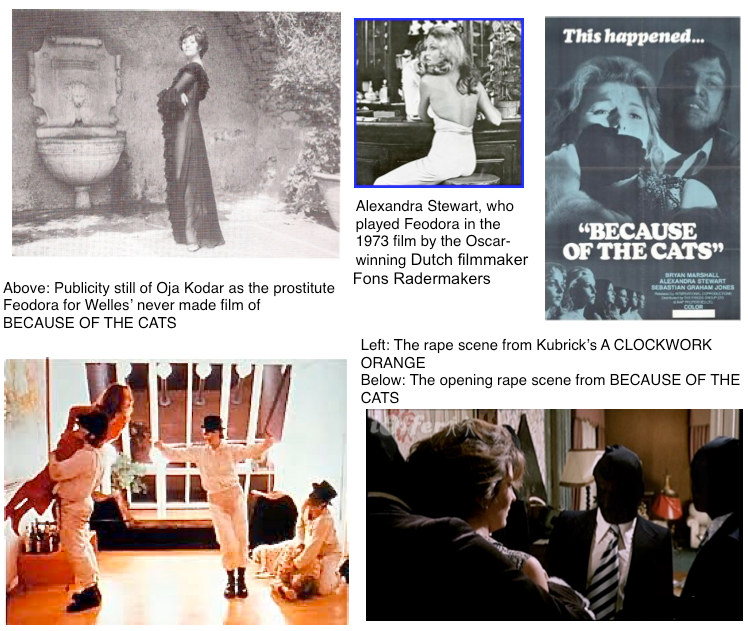 Hans Van Hemert singing the title song:
http://purepop1uk.blogspot.com/2008/04/ ... -cats.html