Here's Irving Penn's "Portrait With Symbols - Orson Welles", done around 1945, as part of the renowned photographer's "Portrait With Symbols" series: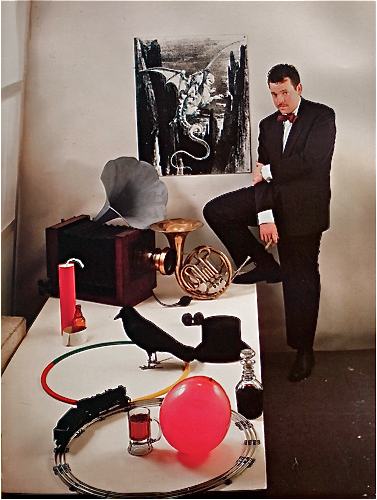 From Peter Conrad's ORSON WELLES, THE STORIES OF HIS LIFE:
In 1945, Irving Penn photographed Welles, calling the result

Portrait With Symbols

. With a raffish bow tie and boyishly tousled hair, he gives the camera a sideways look, as shifty as a naughty child warily awaiting forgiveness. A cigar in his hand, he rests one foot on a table where Penn laid out the gadgetry of his various arts, along with other props that mutely comment on his character. Besides him hangs a print of a Gryphon (half-Lion, half-Eagle) in flight attached to it's prey, with jagged Gothic cliffs in the background. The beast might be Welles' familiar, a reminder of Faust's diabolical helper. A grammaphone horn, growing out of an antique still camera, recalls his radio days; a train set on circular tracks alludes to his description of a movie set. More puzzzlingly, a horn lies propped on it's back, it's mouthpiece almost plugged into the end of Welles's cigar. The conjunction comments on the supplementary art of publicity: Welles was an expert at blowing his own trumpet. But the cigar suggests how self-wasting the effort of puffery must be. A magician's accoutrements are strewn about - a top hat, a hoop, a raven that is either stuffed or very well trained. Here too, is the evidence of Welles's Falstaffian appetites, a glass of beer and a carafe of red wine. Another pair of symbols functions as a momento mori: a distended red balloon and a stick of dynamite. The balloon jokes about Welles's inflation. The Irish critic Mary Manning, meeting him in New York in 1940, called him "a big gas-filled balloon'. The stick of dynamite warns of the same fate as the balloon. The photograph prophesies that Welles will either burst or blow himself up. Was the magician entirely in control of his own tricks? And what value did those tricks have?